On June 3 UU musician Matt Meyers joins Rev. Tricia to lead worship AND offer a song leading workshop open to all.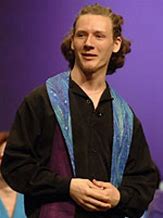 Workshop at 10 am: "Song Leading with Matt Meyer
Singing together is a core spiritual practice for Unitarian Universalist worship and is also a powerful tool for justice work. We'll share some best practices for leading congregational singing in worship, as well as in the streets, to close out a meeting, or around the dinner table.
Worship at 11 am: "Love the Hell of Out of This World"
When the culture around us doesn't encourage us to our best selves, how do we model the kind of world we want to live in? Matt will reflect on the good and bad of middle school, the time he picked the very best costume for a high-stakes 5th grade costume party, & how we find the skills for beloved community