Connection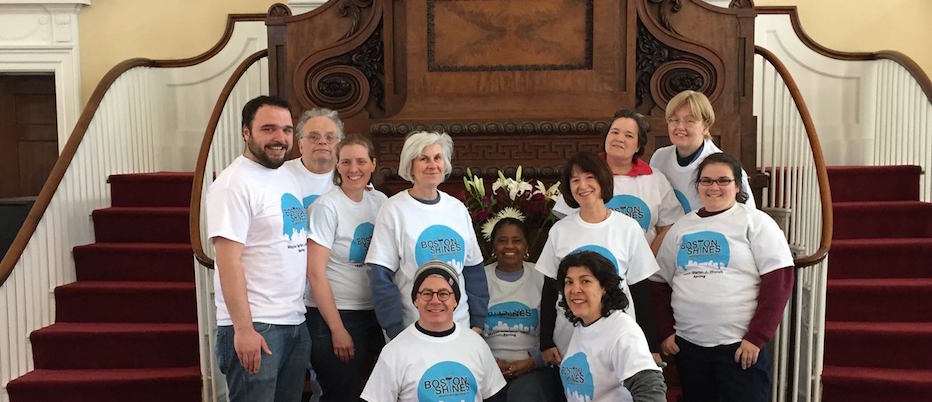 Connecting with the First Parish Dorchester community is about more than attending on Sunday mornings. Some other ways to connect are:
Send us an e-mail message for more information or to make an appointment with the Minister
Ask to receive our weekly e-mail newsletter
Rehearse and sing with the choir, no experience necessary!
Volunteer to help with coffee hour
Donate to the Meetinghouse Restoration Project
Here a list of Easy Ways to Get Involved at First Parish.
Fellowship
One of the most joyous parts of life at First Parish Dorchester are all the ways we gather together in fellowship, creating and deepening our community. Sometimes the gatherings are purely social, and other times they work more specifically to further the mission of the congregation.
Fellowship Hours
Every week after services, generous volunteers provide the basis of a community coffee hour. All are welcome to linger and enjoy conversation with friends old and new. Occasionally, the coffee hours are announced as a more elaborate pot luck luncheons for special occasions.
Congregational Conversations
Approximately once a month, all members and friends of FPD are invited to Congregational Conversations after the Coffee Hour to hear about or discuss things happening in the life of the congregation. These meetings are topical and usually feature reports from various FPD Committees or working groups, such as the Religious Education Committee reporting out on their plans for the next year's curriculum or the Finance Committee reviewing the proposed budget.
Fellowship Dinners
On the second Friday of every month, 5:30 -7:30pm, we have an evening meal together. Volunteers provide a hearty entree. Attendees are asked to bring an appetizer/snack, side-dish, or dessert. BUT please join us even if you don't have the time/ability to put something together. Dinner will be available throughout the event, so no worries if you are running a bit late.
Semi-Annual Clean Up Days
We participate annually in Boston Shines in the spring for outdoor clean up, and host our own First Parish Shines event in the fall to give our interior a deep clean at the start of the church year.
Music, Arts, Dance, and Other Special Events
Throughout the year we organize special one time events, like being a host location for Dorchester Open Studios, having a coffeehouse-style concert series or a community square dance, and filling the hall with parishioners and community friends for our Annual Gala Dinner in May.