Community Partners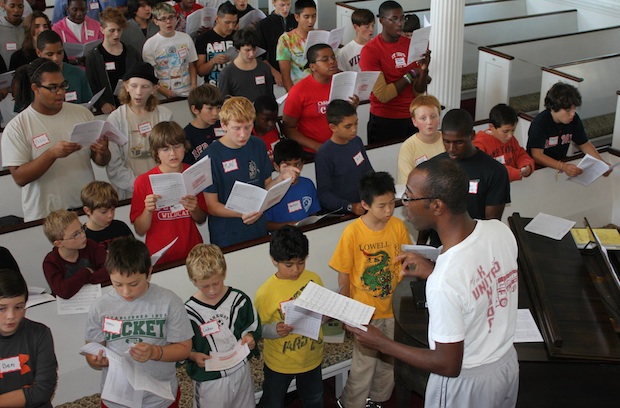 After two years of being displaced, we were very happy to be introduced to First Parish, who opened their doors to us. Currently, two of our choirs made up of 76 students attend rehearsals at First Parish each week. The church works toward staying relevant and active in a community that has experienced much change in the last few decades. The Boston Children's Chorus loves being a part of the First Parish community…
–Ben Hires, Director of Programs, Boston Children's Chorus, February 2013
First Parish welcomes a variety of community partnerships, as we strive to be a welcoming, nurturing, mutigenerational community where people can enrich their spirituality, cultivate relationships, and promote service to others. The Meetinghouse is frequently the location of fundraisers and local support initiatives, which allow low-resourced groups to continue their activities. The openness bridges gaps between diverse economic, racial, and linguistic communities. Other partnerships are more direct and collaborative, with our own parishioners taking lead roles in civic engagement, community service, or social justice projects.
The American Legion, Annual Four Chaplains Service
Bowdoin Geneva Alliance
Bowdoin Geneva Residents Association (BGRA)
Catholic Charities' Teen Center at St. Peter's
Dien Hong Foundation
Dorchester Arts Collaborative
Dorchester Civic Forum
Dorchester Community Food Coop
Dorchester Historical Society
Dorchester People for Peace
DotArt
DotHouse Health
Fair Foods, Inc.
Eastern Service Workers Association (ESWA)
Fields Corner Main Street
Greater Bowdoin Geneva Neighborhood Association (GBGNA)
Louis D. Brown Peace Institute
Mather Elementary School
Meetinghouse Hill Civic Association
New England Peace Pagoda
Pilgrim Trinitarian Congregational Church
St. Peter's Church
Unitarian Universalist Urban Ministry (UUUM)
Vietnamese American Initiative for Development (Viet-AID)
Cape Verdean Community Uniting Neighbors in Developing Ourselves (CVC UNIDO)