Welcome to Rev. Elizabeth Carrier-Ladd!
April 8, 2020
Reverend Elizabeth Carrier-Ladd to join FPD in August
The Board of Trustees, on the enthusiastic recommendation of the Hiring Committee, Pam Goncalves, Myles Crowley and Mary Fernandez-Buehrens, voted unanimously to hire Reverend Elizabeth Carrier-Ladd to be the minister of First Parish Dorchester. Reverend Elizabeth will start August 1, 2020 with a one-year contract that can be extended.
Carrier-Ladd received the Masters in Divinity degree from the Meadville Lombard Theological School and was ordained in 2012. Since 2013, Carrier-Ladd has been the Coordinator of Youth Programs at the Unitarian Universalist Church of Muncie, Indiana, and she previously served congregations in San Diego, CA, Tulsa, OK, Lafayette, IN and Indianapolis, IN. She was born in Medford, Mass. and grew up in the Greater Boston area. She and her husband Reverend Seth Carrier-Ladd have three children and are expecting their fourth in May.
Qualities that drew the Hiring Committee to Reverend Carrier-Ladd include her passion for parish ministry, her commitment to social justice and her specific interest in our congregation. The Committee, the Trustees and many other members hope that within the first year of our shared ministry, Reverend Elizabeth will be officially called by the whole congregation, into a settled ministry here at First Parish Dorchester.
Over the next few months, there will be several opportunities to meet Reverend Elizabeth and she offers a personal greeting below.
Reverend Elizabeth Carrier-Ladd
Greets the First Parish Dorchester Community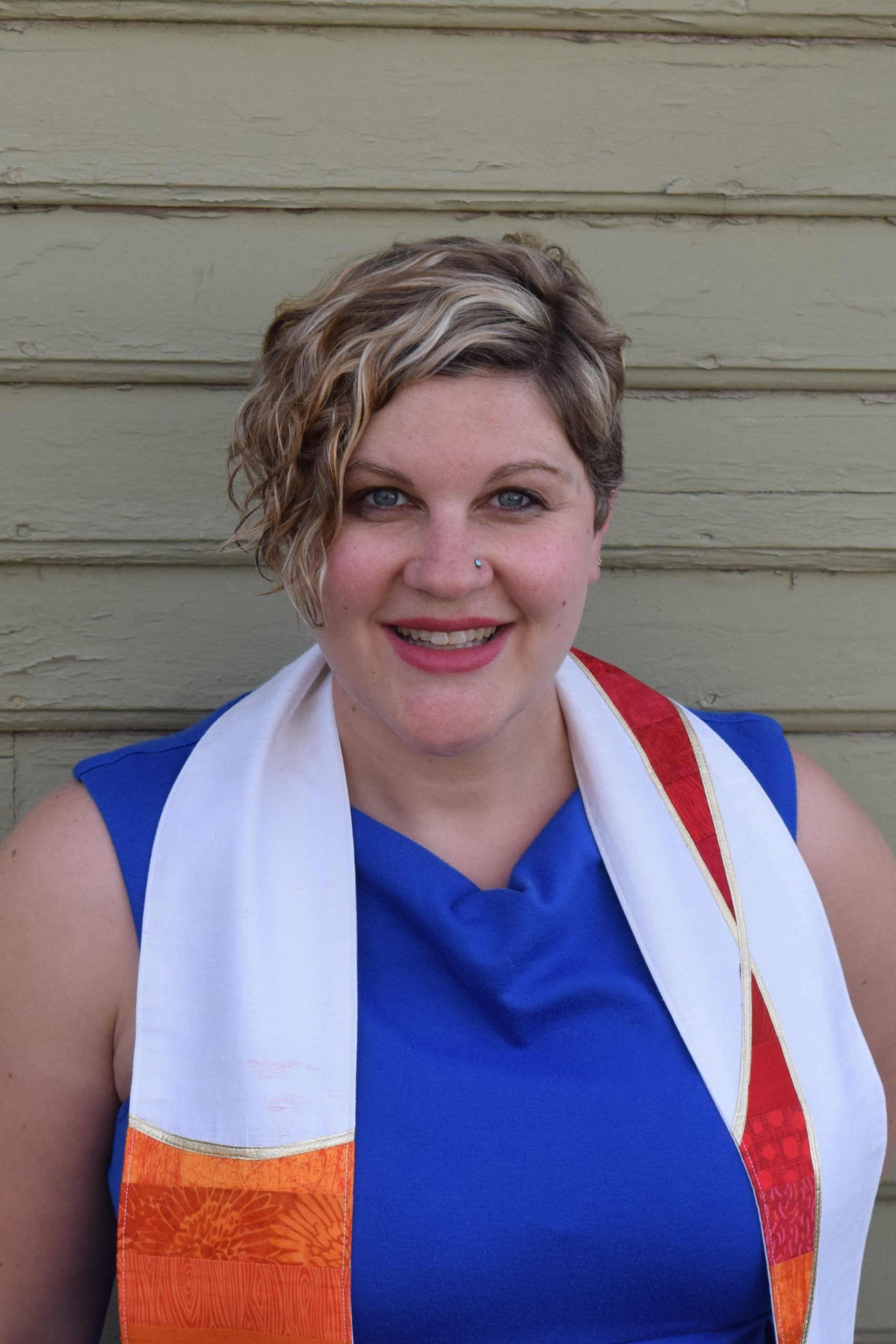 I am so pleased to introduce myself to you as we embark on this next step of our journeys together! I wholeheartedly agree with your exceptional Hiring Committee that we are an excellent match in many ways. Becoming a part of such a loving and vibrant congregation feels like such a gift to me!
I, too, have deep roots in Massachusetts and with Unitarian Universalism. My ancestors traveled across the ocean on the Mayflower. I am fourth generation Unitarian and Unitarian Universalist. I was born in Medford, MA and grew up in the greater Boston area. I am overjoyed to be returning home after having lived all over the country, most recently Muncie, IN.
So much of what it means to be Unitarian Universalist to me is wrapped up in my passion for social justice work, particularly racial justice work. It brings me great joy and meaning. I am particularly excited to serve a congregation that is multi-racial and committed to building a beloved community where Black lives truly matter.
Ministry runs in my blood. I am a third generation minister and there are six ministers in my family. Congregational life feeds my spirit. Learning and growing alongside others brings me joy. Being with people as they navigate all of the twists and turns of life is an honor. I love fostering spaces where we can be real and vulnerable with each other. I thrive in the shared ministry of articulating and living into the mission of the congregation. I have lovingly served congregations in San Diego, CA, Tulsa, OK, Lafayette, IN and Indianapolis, IN. I bring my whole heart to the work of ministry because I truly love people and believe so strongly in the power of Unitarian Universalism to change lives and save the world.
My spouse, Seth, is also a Unitarian Universalist minister from Massachusetts, along with being an incredible partner and parent to our children: Mira (6), Theo (4) and Elias (2). By the time we arrive in Boston, there will be another little Carrier-Ladd among us. We expect her to join us in May. We also share our home with two dogs. Our house is loud and full and we are so grateful (most of the time). Much of our extended family is located in Massachusetts and we are overjoyed to be closer to them.
I cannot wait to sit down with each of you and spend time getting to know you. Together we will discover how best to bring First Parish Dorchester into the next phase in its ministry. We will do this though deep relationship, shared vision and abundant faith. I am so excited!