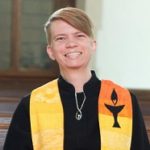 What's it like to be a Unitarian in Burundi, England, or Indonesia? What makes each of our different communities unique, and what binds us together? Come learn about our siblings in spirit – Unitarians and Unitarian Universalists across the globe – and leave with a renewed sense of your own faith.
Guest Preacher: Rev. Liz Weber
Rev. Liz Weber is a chaplain at Mass. General Hospital in their CPE Residency program. An alumna of Andover Newton Theological School, she is the recipient of the James Luther Adams Award for the study of liberal theology. Liz's local UU community is Arlington Street Church, and her larger UU community spreads far and wide.