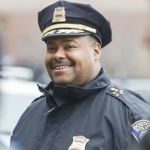 January 11, 2019, 6-8 PM – Parish Hall
First Parish Dorchester is pleased to announce that Boston Police Commissioner William Gross will be attending our monthly Community Dinner on January 11, 2019. We invite neighbors to join us for the pot luck dinner. Please bring something to share or just come and enjoy an evening of food and conversation with the new Commissioner.   We look forward to hearing from the Commissioner on his plans for policing in Boston.
Commissioner Gross is the City of Boston's first African American Commissioner. He is a 33-year veteran of the Boston Police Department. He is a South Boston native who started his career on the force in Dorchester in 1985. As Deputy Superintendent, Gross served as the Commander of Zone 2, which is comprised of Area B-2 Roxbury and Mission Hill, Area B-3 Mattapan, Area C-11 Dorchester, and Area C-6 South Boston. In this role, he coordinated with District Captains in their development of strategies to address crime trends and attended community meetings to address specific neighborhood crime concerns.