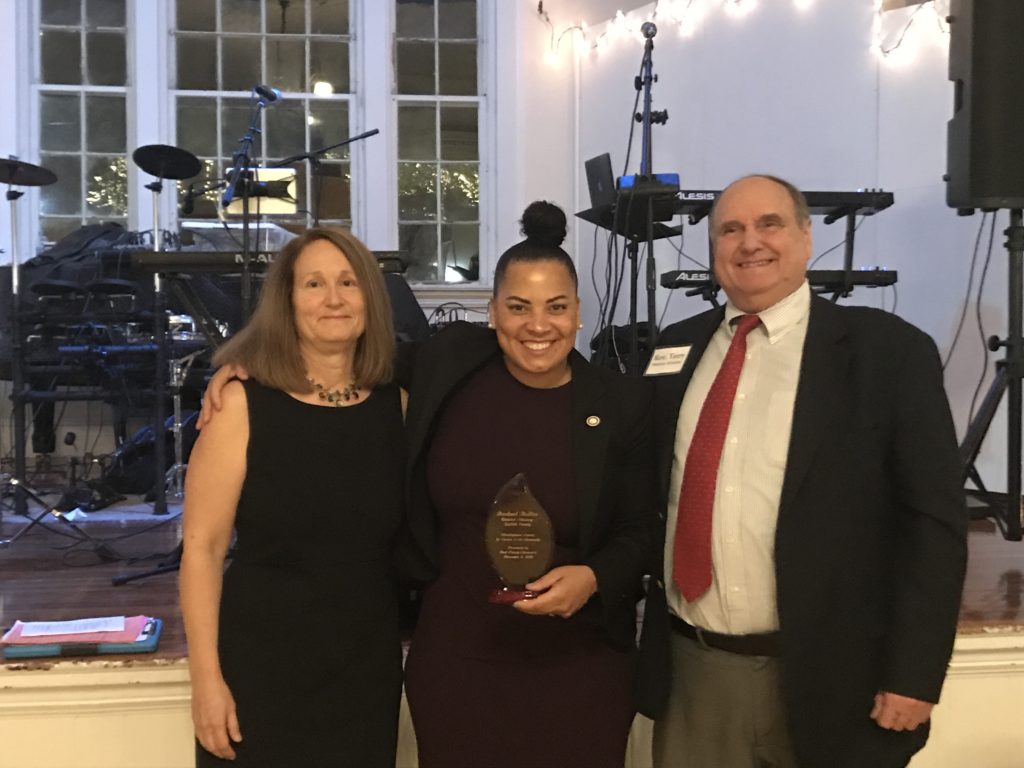 The Trustees want to thank Myles Crowley and his Gala committee: Jenn Cartee, Mary Elliff, Laura Maltby, Laurie Martinelli for a wonderful evening on Saturday, November 2 at First Parish. It was a great event: the Parish Hall was full of our First Parish community and friends, and the food and music made it a tasty and festive dance party with the Jamaica Mi Hungry buffet and the fantastic Dis-N-Dat Band. We were all impressed and inspired by the powerful speech by our District Attorney, Rachael Rollins – our Meetinghouse Award for Service to the Community recipient.
In addition to celebrating our community, the Gala is our annual fundraiser. Myles reports that our preliminary results show about $10,000 in ticket sales, Silent Auction and sponsorships, with more to come. Myles also introduced a challenge to raise funds for a second bathroom on the first floor of the Parish Hall. First Parish now has commitments for more than $12,000 from generous donors.
Also, many thanks to our Gala volunteers: Steve Auger, Bob Chorney, Tom Cunningham, Noel Currier, Sandra Eddy, Dayo Hall, Keith Godbout, Pam Goncalves, Chuck Hagenbuch, Marcia Hubelbank, Emily Litchtenstein, Betsy Miessner, Chris Montani, Andrew Olsen, Keith Olsen, Jim Rodenmacher, Doug Shaheen, Julie Simmons, Ardis Vaughan, Zoila Weddborn, Melissa Wender. 

Special thanks to: Kit Binns, Chuck Hagenbuch, Ed Garland, Premier Bar Service, Eko at Jamaica Mi Hungry, Horace James, Debra Sarjeant of the Dis-N-Dat Band, Bruce Shatswell, Rev. Terry Sweetser.