Got Search?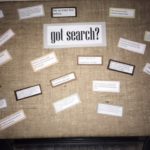 January 22, 2019
The Board of Trustees have approved three members of our Contract Ministerial Hiring Committee. The Members are: Pam Goncalves, Myles Crowley and Mary Fernandez- Buehrens.We thank them for agreeing to be a part of this Committee. They will review applications, interview candidates, and make a recommendation to the Board. We appreciate all your suggestions for Committee members which the board carefully reviewed.
The Trustees voted to proceed with hiring a Contract Minister, with the intent that this be open to a Settled Minister position. The Contract Minister job will begin summer 2020. The Ministerial Hiring Committee will build on the work that the previous Ministerial Search Committees developed, including the completed Congregational Record
December 31, 2019
Keith Kron, Director of the Transitions Office for the Unitarian Universalist Association, has agreed to come to First Parish Dorchester on Friday, January 3, to meet with the congregation and to discuss our options and next steps to continue the Ministerial search process.
Our Ministerial Search Committee voted to disband but the search for a new minister will continue. We are sure that everyone is grateful for the efforts of the MSC. It's a complicated task that doesn't always lead to easy decisions.  The Trustees are in agreement that we must continue the process for the eventual calling of a Settled Minister.
Potluck dinner at 6pm, conversation on the search at 6:30pm.
December 2, 2019
Our Congregational Record for the ministerial search is now posted on the UUA minister's search website. The Congregational Record is a document describing our position for minister, congregational history, congregational characteristics, RE programs and qualities we desire in a called minister. As of December 2, 2019, the UUA portal was opened to ministers in search of a congregation. We look forward to serving First Parish in its search for a settled minister.
Kind regards,
Suzanne Hickman
Tom Cunningham
Laurie Martinelli
John Minahan
Althea Smith

November 6, 2019
Ministerial Search Focus Group
A group of congregants met with the Ministerial Search Committee, Althea Smith, Tom Cunningham, Laurie Martinelli, Suzanne Hickman and John Minahan, after coffee hour on Sunday October 27, 2019 to discuss desired traits of our next called minister. This was an opportunity for new members to contribute their ideas and for other members to give additional input. Althea Smith led the meeting, divided us randomly into three groups, and gave each group a topic to discuss.
The topics were collected from responses of the congregational survey and cottage groups from last year's search.  A representative from each discussion group then summarized their responses and members were able to ask questions or make comments.  The topics dealt with balancing the desires of "multi-sourcers" with the desires other congregants have for more traditional services, integrating spiritual needs with social justice, and top leadership qualities desired in a minister for our church.
The Ministerial Search Committee wants to thank everyone in attendance for their valuable ideas. We will incorporate some of these ideas into our new congregational profile to submit to the UUA search website by the end of November 2019..
October 23, 2019
After Sunday Worship on October 27, please accept an invitation to join the Ministerial Search Committee in the Allen Parlor for a Cottage Conversation focused on our search for a permanent Minister.  We are seeking your input as we go forth in the process.  Looking forward to seeing you there.
August 26, 2019
From Ardis Vaughan, Chair of the Board of Trustees:
I am pleased to inform the First Parish congregation that the Trustees and Officers have chosen three new members to join the two continuing members on our Ministerial Search Committee. The Trustees and Officers have confirmed: Althea Smith, Suzanne Hickman and Laurie Martinelli.   Please offer your support to these new members who are joining Tom Cunningham and John Minahan on the MSC
The new MSC will build on the hard work of the 2019 Committee and will have the advice and support of our new Interim Minister Terry Sweetser. The MSC will develop our Congregational Record, interview potential candidates and recommend one person for Settled Minister at First Parish Dorchester.
I know we all look forward to a great candidate who will be the right person to join us as Settled Minister in the Spring of 2020.
July 17, 2019
Welcome to Rev. Terry Sweetser as Interim Minister!
The Trustees made an offer of a one-year contract to Rev. Terry Sweetser, a seasoned UUA minister, to come to First Parish Dorchester as Interim Minister. Rev.  Sweetser has accepted and will start on August 1. He recently completed an interim ministry at the Salem UUA congregation, and previously at the Wellesley Hills UUA congregation.
We are excited to have an Interim Minister who has guided other Massachusetts congregations through the search process for a settled minister. Over the next few weeks Terry will be coordinating with Rev Tricia to make this transition go smoothly.    Welcome Rev Terry Sweetser to First Parish Dorchester!
June 25, 2019
Ministerial Search Progress
This summer will be a busy time for our ministerial search at First Parish Dorchester. The Trustees voted to have a blended Search Committee to continue the process of identifying and recommending ministerial candidates that Jane Lindsay, Katherine Jenkins Djom, Tom Cunningham, Susan Lush and John Minahan completed over the past year.  John and Tom will continue and will be joined by three new members.  The hard-won knowledge and insights gained by our continuing members will be invaluable to the new committee.
Please contact any of the Trustees if you are be interested in joining the Search Committee or if you would like to recommend someone for the Committee.  We want to have a broad range of life experiences that represent the membership here at First Parish Dorchester on the new search committee.  The Trustees and other elected Officers will meet in early September to choose the new members.  Our new Ministerial Search Committee will be hard at work this coming year to identify and recommend the right candidate for our congregation. The goal will be to have a settled Minister for First Parish next spring.
Interim Minister Update
The Trustees made an offer of employment for a one-year contract to a seasoned UUA minister to come to First Parish Dorchester as Interim Minister. The minister has accepted and is making arrangements to come to Dorchester.  The Trustees are in the process of completing the contract documents and we expect to have our new Interim Minister in place this summer.  Stay tuned.
Ardis Vaughan, Chair of the Board of Trustees
———————————————————————————————–
May 14, 2019
Ministerial Search Committee announcement
Dear members of the First Parish Dorchester community,
As we have previously reported, for the last month we have been participating in a second round of interviews with minister candidates and spent a weekend with one candidate.  We liked that candidate very much and made an offer to him.  Today he told us that he has declined our offer.
While it is very disappointing for our search process to not yield the desired result, we are extremely positive on the future of this congregation.  Our work over the last year has greatly deepened our understanding of this congregation, and we are convinced more than ever that we have something precious here, and that we are poised for growth both in numbers and impact.
We have been informed by Ardis Vaughan, chair of our board of trustees, that the board has already prepared and submitted a job posting for an Interim Minister with the UUA.  The Trustees will make the interim ministerial search their priority over the next few weeks.
It has been a pleasure to serve you.
The Ministerial Search Committee
Tom Cunningham
Katherine Jenkins
Jane Lindsay
Susan Lush
John Minahan
May 5, 2019
Second Round for Minister Search
For the last month the minister search committee has been conducting a second round of reviewing applications and interviewing candidates.
We received four applications in this round and had serious discussions with two applicants. We have invited one of those candidates to "pre-candidate" with us, that is, to spend a weekend in Dorchester with the committee, including leading a Sunday service at a nearby church, which the committee will observe. If all goes well with "pre-candidating" weekend, then we will invite the prospective minister to spend a week with the congregation in early June, likely to be June 1 – 9.
If the committee does decide to recommend that you consider calling this minister, the first week of June will be full of opportunities to get to know the minister, so we ask all of you to be mindful of that. We also ask you to be mindful that calling a minister requires a congregational vote, and if we are moving forward, that will be on June 9th.
We are sorry we cannot be more definitive about whether we are on or off with this minister, but that is simply the nature of the process. Because of the compressed timeline of round two of this process, we must plan for candidating week before we know for sure it is happening. That said, we should have definitive news soon.
February 2019
Save the Date May 5, 2019 Congregational Meeting
May 5th will be an important date for First Parish Dorchester, as that is the Sunday that we will have a congregational meeting to vote on the call of our next settled minister.  The Search Committee has been working diligently to review applications and is now in the process of interviewing possible candidates. You will have an opportunity to meet the candidate that the Search Committee has selected during Candidating Week, which runs from April 27th- May 5th, and will have lots of opportunities to get to know the minister. This is an important time for all of us. Mark your calendars to be at First Parish and vote for our future.  Look for the official notice for this congregational meeting later this spring.
January 2019
Committee Conducts Conversations with Candidates
This is an especially exciting time for the Ministerial Search Committee as we talk with accomplished and enthusiastic candidates about their interest in becoming our next settled minister.
We have really enjoyed these Skype conversations and are now determining which of these candidates will be invited to spend a different weekend with the search committee over the coming months. In addition to being interviewed and learning more about the Dorchester congregation, these candidates will guest preach at another UU church; the search committee will be in attendance to experience the candidates in action!
All of this activity will culminate in a final candidate being introduced to Dorchester during late April/early May. The search committee will be making arrangements for the candidate to meet with members and friends of the congregation during both scheduled meetings and social events between April 27 and May 5 when the candidate will be preaching here in Dorchester.
For more information on the search process please see below – or feel free to contact Search Committee members Tom Cunningham, Katherine Jenkins, Jane Lindsay, Susan Lush or John Minahan.
---